Hy on the Fringe: Your Personal Guide to the
2011 New York International Fringe Festival
This Page Was Most Recently Updated: November 22nd 2011
I assign all shows seen one to four stars, using the following rating system:
**** = Transcendently Great
*** = Solid & Worth Seeing
** = Unless Your Relatives Are in the Cast, Think Twice
* = "I Wanted to Kill Myself"
This page provides reviews of FringeNYC 2010 shows I've seen from beginning to end.
Each review includes a show's Web site address and a representative photo. Clicking the address will open a new browser window taking you to the show's official site. Clicking the photo will open a new browser window taking you to the show's listing on the FringeNYC site. You can use the latter to read the official description of the show, see when and where it's playing at the festival, and order tickets.
Please keep in mind these reviews have to be written in a hurry. If you spot any factual errors, please don't hesitate to let me know by emailing hy@hyreviews.com. I'm always happy to make corrections and updates.
| | |
| --- | --- |
| Rating: **** | |
The greatest success to come out of FringeNYC has been Broadway's Urinetown, written by Tony Award winners Mark Hollmann and Greg Kotis. It's therefore fitting that the 15th Anniversary of the festival hosts a new musical from Hollman & Kotis that tackles the same key themes—dwindling resources, challenging the status quo, assessing change realistically—in a witty, iconoclastic way that continually surprises.
Yeast Nation is set in 3,000,458,000 BC, and focuses on what we're told was the first life on earth, single-celled yeast, as they live the first story. We're comedically warned to take nothing at face value, though; e.g., when a yeast inquires "Can it really be true, mistress, that there were no stories before this one?", the response is "None worth musicalizing."
The first act is currently a bit too slow and one-note, filled with cartoonish characters and what appears to be a flat metaphorical argument against inflexible systems.
The latter is misdirection, however. The true intensions of the show spring to life in Act 2, which is much more lively, compelling...and ultimately mind-blowing. By the end of the musical, you're left with a perspective on fundamental rules of the universe that's potentially life-altering.
The delights of the show don't stop with the script. It includes a uniformly excellent cast, with unforgettable performances by Broadway star Harriet Harris as an ancient wild-eyed oracle and Kimiko Glenn as a creature whose very existence is forbidden.
The direction, music, and other elements are all also superb. Quite simply, this is a Broadway-caliber show. And—assuming significant improvements are made to Act 1—it's highly likely this musical will end up enjoying a Broadway or off-Broadway run.
Yeast Nation made FringeNYC history when it sold out its August 13th opening night on August 3rd, a full nine days before the start of the festival...the fastest sell-out of any FringeNYC performance ever. The musical also sold out its entire run three days before the festival even began. To try to accommodate demand, a performance was added for Tuesday August 23rd at 8:00 pm; it quickly sold out too.
The finest production at this year's festival, Yeast Nation epitomizes what the Fringe is all about at its best.
2. PigPen Presents: The Mountain Song


Rating: ****
The young talents of PigPen Theatre—who've just graduated from Carnegie Mellon University—are doing wondrous work by combining songs, shadows, puppets, and the barest of props to create epic folk tales. Their darkly comic Nightmare Story at last year's festival, and this year's The Mountain Song, have the feel of living dreams, and are likely to stay with you a long time.
The Mountain Song is a story of a father whose daughter is mute. A talented builder, he works every night on inventing a device that will enable anyone to speak. But while he does so, his daughter leaves to find her own ways of giving herself a voice in the world. The two lose touch through a miscommunication; and the bulk of the tale is the father trying to reunite with his daughter—while experiencing staggering adventures.
This isn't a conventional narrative. It's actually a series of tall tales loosely strung together by a framing device. Once you accept that structure, though, you can sit back and have a blast with it.
Barry Lopez wrote, "The stories people tell have a way of taking care of them. If stories come to you, care for them. And learn to give them away where they are needed. Sometimes a person needs a story more than food to stay alive."
The guys of PigPen celebrate the importance of stories; and they're creating some of the most nourishing theatre in the country.
The troupe recently moved to NYC. So in addition to enjoying them at the festival, keep an eye out for their future productions.
| | |
| --- | --- |
| Rating: **** | |
What if The Partridge Family and The Brady Bunch met and feuded—following Shakespearian themes from Romeo & Juliet, Macbeth, and more? That's the foundation of this very entertaining musical.
Sure, it's a gimmick. But writer Stephen Garvey, director Jay Stern, and a small army of actors execute it with surprising intelligence, care, and skill.
The naive characters and dialogue from the two 1970s family sitcoms are mixed with blood & guts situations from Shakespeare to create numerous moments that are delightfully uncomfortable...and may cause you to view your childhood in a new light.
The music is bouncy. It even includes several Partridge Family hit songs, albeit twisted by the action taking place during them into odes for darkness.
And just as importantly, the show is a well-polished comedy. You're likely to end up laughing at least once a minute—something few other musicals pull off, including ones currently on Broadway.
The main thing I wondered while watching was how Garvey managed to get the rights to do the show. I therefore hung around afterwards and asked him. The answer is: he didn't. But he's hoping the production will receive enough positive attention to convince the estates owning Brady and Partridge to agree to license a commercial run.
I'll go a step further—this would make a great movie. So I hope Garvey's guerilla-style tactics achieve the desired results.
Meanwhile, in case a pull-quote will help: The Bardy Bunch is a smart, well-executed high concept show packed with laughs—and one of the very best productions of the festival.
4. COBU: Dance Like Drumming, Drum Like Dancing


Rating: ***½
Seldom has a title so eloquently summed up a show as COBU: Dance Like Drumming, Drum Like Dancing. Blending Japanese Taiko drumming & American tap dance, this show is all about percussion, whether it's created by striking a drum, slapping sticks together, or stomping feet. In fact, the production was created by a former member of the off-Broadway hit Stomp, Yako Miyamoto.
Her troupe consists of young, lithe, adorable-looking Japanese women who proceed to beat the hell out of their drums with the fierceness of tigers and the precision of androids from a Philip K. Dick fantasy.
There's no narrative. It's all about the pleasure of the sound and the visuals. Happily, that's enough to make this well worth experiencing.
As the same time, there's room for improvement. The troupe is enormously focused on being perfect musicians, but expends little energy on softer skills such as being funny and connecting with the audience. This was especially evident during a brief segment in which Miyamoto gets off the stage and does some tap dancing directly right in front of the first row, and then tries to get audience members to respond. It made the show come alive in a way that no other sequence did. Miyamoto has a star's charisma, and she understands how to both reach out and pull people in—which makes it all the more surprising that her show doesn't have lots of such moments. I'm told COBU is seeking to expand its fan base, and I believe a greater emphasis on being emotionally accessible is the way to do it. (Addendum: I'm told this advice was taken, and the show now includes more playfulness with the audience.)
But even as is, COBU is one of the best offerings of the festival. If you like percussion, and/or watching cute Japanese gals display superhuman skills, go see it.
On a virtually bare stage, and in FringeNYC's smallest venue, writer/performer Gabrielle Maisels delivered the best one-person show of the festival.
In terms of plot, Bongani is a simple tale of a South African boy and white girl who grow up together and then each have to make a choice. But Maisels picks and enacts key scenes of their lives with such care that by the end the story will hit you like a hammer to the heart.
Especially notable is Maisels' breathtaking skill as an actress. She brings each character to full life in a fraction of a second via subtle adjustments of body language and shifts in voice. And she's so emotionally giving that you can't help but respond in kind.
Bongani lost two performances to Hurricane Irene, but thankfully it's part of the FringeNYC Encore Series. I highly recommend taking advantage of this second chance to have your spirit uplifted by one of the finest solo performers I've ever been lucky enough to experience.
FringeNYC is most associated with wacky high concept and comedic shows. But the festival also plays host to more formal and traditional performance art.
This show is a perfect example of the latter. It's a dance piece choreographed by Nejla Y. Yatkin that was inspired by the 20th anniversary of the fall of the Berlin Wall (which occurred on November 9th, 1989). After being performed in DC in 2009, it was selected as one of the Top 10 Dances of the Year by The Washington Post. The reason why is evident within minutes; the choreography is both elegant and kinetic, combining grace with athleticism, and at times swiftness that will make you regret any blinking. And beyond the formal elements, there's an emphasis on personal emotion that provides a satisfying journey.
Because the show is all about movement and visuals, the best way to get a feel for it is to watch a video excerpt—which you can do by clicking here.
All the dancers in this NYC version—performed by the NY2Dance company—are superb. That said, I especially enjoyed Marissa Maislen, a striking redhead who enhances her dancing by also conveying feeling through facial expression and nuanced body language. I chatted with her afterwards and learned she'd started out as an actress. To my eye, Maislen is the finest all-round performer of the company.
Also extraordinary are Ahmaud Culver, who at times moves at angles and speeds that many dancers wouldn't dare attempt; and Fadi Khoury, who conveys a natural charisma no matter what he's performing.
Despite all these positives, I have to mention that the opening performance was marred by major technical issues. For example, at one point early on Ahmaud Culver was left standing in front of the audience waiting for the music to sound. Five seconds went by, then 10, then 30, then a minute...it soon felt like forever. When the audio finally came on, Culver virtually exploded into dance, like a tensely coiled spring that had abruptly been released. It was oddly uncomfortable and breathtaking at the same time.
This was followed by over a half a dozen other tech glitches throughout the show.
Such problems might not have been as noticeable at a lesser production. But the dancers were operating at such a high level of split-second excellence that the tech issues were as prominent as dirt on a sparkling white suit.
I'm reporting this not to pick on this show, but to drive home a point to all other FringeNYC producers & directors: Your first performance isn't a rehearsal. It's your opening night, and the one that's most likely to attract press. Do whatever it takes to ensure it turns out perfect.
That said, all subsequent performances of Wallstories are very likely to have flawless or near-flawless tech.
I love a fun, silly Fringe show as much as anyone. But while you're enjoying the festival, treat yourself to a rich artistic experience by seeing Wallstories.
| | |
| --- | --- |
| Rating: ***½ | |
When something unexpected happens in a one-woman show for which every word and subtle gesture has been carefully planned, it can reveal what a performer is truly made of.
So imagine the lights coming up on Nancy Eng's sparse set, which consists of little more than a table with figurines from China to set the tone, and a coat rack that holds the various simple bits of clothing she'll use to transform into a range of women working at a massage parlor.
Now imagine that before a word emerges from Eng's mouth, that coat rack—which a stagehand set in place a bit too hastily in the dark—starts to wobble. Envision that wobbling getting worse and worse, until the whole thing crashes down—into the table!
In one blow the set is in chaos, its components scattered all over the floor.
Some actresses might be sufficiently mortified to flee the stage, or furious enough to start cursing the crew. But Eng doesn't even miss a beat. Staying entirely in character, she comments, "You ever have one of those days?" And she then proceeds to perform the monologue of her character—a Chinese massage parlor owner who's used to cleaning up after customers—while setting every piece of the set back in its rightful place. Eng does this so smoothly that some audience members begin to wonder if the accident was part of the show.
It wasn't. Eng is simply that good.
Eng's talents go well beyond holding up in a crisis. Most writers and performers portraying massage parlor employees tend to fall into various traps—going over the top with Asian stereotypes, or having an adolescent attitude about sex workers. It's therefore a special pleasure to watch Eng bring her characters to life with wit, insight, and exceptional honesty. Here's just a taste, from one of her more memorable characters:
The goddamn customer drive me up a wall. Why they have to talk? Always say the same stupid stuff!
"You know what I want, right?" Pork lo mein? Of course I know what you want!
"Aren't you kind of old to be doing this?"No! If you could get any better, you wouldn't be here!
"Hi. Remember me? I was here last month." Yeah, sure. You're the white guy who was after that white guy who was before that other white guy...
"It's your lucky day. My dick is four inches wide." I not lucky. I scared! Four inches is size of my son's head when he was born. Trust me, those were not screams of pleasure in that delivery room!
Trust me, my audience was screaming with laughter during this sequence.
Eng alternates such comedic scenes with more serious ones, such as the tale of a hooker losing her closest companion: her cat. Eng actually suffered the passing of her own cat last year, so when she bursts into tears over the loss it's the one time she's not acting.
I don't know how Eng managed to create so many colorful characters and supply them with so many fascinating things to say; but I'm grateful for her doing so.
Eng is a powerfully talented writer and chameleon-like actress; and her blending of those exceptional gifts has resulted in a show not to be missed.
| | |
| --- | --- |
| Rating: *** | |
Ace storyteller and gracious host Tricia Rose Burt instantly lets us know we're in good hands by beginning her autobiographical show as follows:
This year I'm celebrating a birthday with a zero in it. When you have a birthday with a zero in it, you tend to look back and assess your life.

For instance, I live in New England now, but I was born and raised in the South.

I'm an artist now—have been for 15 years—but I didn't start out as one. I spent a lot of time in business, until I snapped.

And I have a wonderful husband, but I didn't start out with him either. I had one of those pesky practice marriages.

Most every part of my life isn't what it was when I first set course. A good friend of mine says "God writes straight with crooked lines." And she must be right, because I know I'm exactly where I'm supposed to be; but I am completely different from what I'd expected.

It's January 1990. I've just moved from New York to Boston with my then-husband. I've done everything I was supposed to do: Overachieved in high school. Attended a prestigious college in the South. Got a good job. Married well within the child-bearing age. And except for moving up North—which caused my family to collectively take to their beds—I'm on track with where my life is supposed to be.

But I'm not happy.
Burt later explains how she came to grow up so proper. For example, her father was not one to tolerate nonsense:
When childish pranks were all the rage, my father said to me, "Tricia Rose, if I hear of you egging someone's house, I will wake you up at dawn, I will put you on the sidewalk in front of our porch, I will crack a dozen eggs over your head, and I will leave you there until the sun sets." I did not doubt for one second that he would do it. You did not question my father. There was one right way.
Burt's mother had some pretty firm ideas as well—for example, about premarital sex:
If we went to a wedding and the bride seemed to stay too long at the reception, mom would raise her eyebrow and say, "Well, she wasn't in a hurry to leave, now was she?" Which was code for That hussy has already slept with her husband and shows no shame.
So naturally Burt spent her first few decades towing the line. But after a failed marriage and deep dissatisfaction with her business career, she decided it was time to try something new. This led her to take an art class. It was not easy:
Our instructor Rhoda begins, "There is no right way to make art. And there is no wrong way to make art." I become extremely nervous. I have been raised to believe there is a right way and wrong way to do everything.

"And," Rhoda adds, "there are no grades." Things are careening out of control. If there are no grades, how do I know I'm overachieving? I need to know I'm overachieving.

I survive the first week. Then at our next class we're told, "Today we're going to do gesture drawings. Very fast drawings of 45-second poses. And we're going to draw the energy and essence of the figure." Then a male model comes in and undresses. That's okay, I think to myself. You've seen a nekkid man before. You've even had sex with a nekkid man. Your problem is you don't know how to draw this nekkid man's essence.

Everybody else apparently does, though. As they're all getting out their pencils and charcoal, I'm just standing there like a deer in headlights.

I ask the student next to me, "Judy, what are these supposed to look like?" Because of course I think there's only one right way to do this, and we're all going to draw the same image. Judy looks at me bewildered and says, "They're all going to look different."

I'm paralyzed. What is mine supposed to look like?

I'm about to cry. But while I am clueless, I am also competitive. And the side of me that's learned we aren't allowed to say can't or quit kicks in. I tell myself Snap out of it and do something.

So I start making these hopeless stick figures. Every 45 seconds, because that's how long each pose lasts. And every 45 seconds I feel like a total failure—which is a lot of times in an hour.

It's eighty.
True.
But by the same token, there is more eloquent wit and wry self-understanding in two minutes of this show than many productions manage in two hours.
Plus it's all delivered in a charming Southern accent. (For video samples, please click here and here.)
If you've ever contemplated a career change; or if you're living the life of a struggling artist and sometimes ask yourself Why didn't I listen to my parents and go to law school?; or if you simply suspect you too often follow rules without sound reasons, you owe it to yourself to come and enjoy I Will Be Good.
9. You Only Shoot the Ones You Love


Rating: ***
Jeffrey Sweet is the author of Something Wonderful Right Away, a book of interviews with the pioneers of improvisational theatre who helped form Chicago's Second City, including such comedy legends as Del Close, Gilda Radner, Mike Nichols, Paul Mazursky, Alan Arkin, Alan Alda, Paul Sand, and Paul Sills. Since its publication in 1978, Sweet's book has influenced numerous pivotal figures in both comedy and theatre, ranging from the Upright Citizens Brigade to David Mamet. To have someone with such a deep comedy background share his experiences is a rare treat.
Sweet's one-man show is a laid-back telling of tales about the comedy giants he's known and his personal journey in the world of improv. For example, Sweet—who makes his living as a playwright—tells of the time he interviewed Paul Sills, the founder of Second City:
I always thought theatre existed to serve the playwright—that the actors, the director, the producer, the composer, and so on were all tools to serve the writer's vision. But after talking to Paul Sills, I have a different perspective.
Sills makes me understand that there are only two elements essential to theatre: actors and audience. That's all you need to have theatre. That doesn't mean it'll be great, or that the other elements don't enhance the show; but it all boils down to performers and people watching them.
This changes my view of theatre completely. I'm dizzy after the interview; it's like my center of gravity has shifted. I suddenly realize that the actors aren't there to serve me. I'm there to serve them.
Sweet also relates key moments in the development of improv, such as this one:
They create just the bare outline of a show, and then improvise everything in between. The subject matter is what's happening here and now because of the immediacy of the process—the show is plotted and then performed on stage mere days later. And unlike the epigrammatic language of Broadway, the dialogue is natural—because the performers are making it up as they go. Audiences have never heard anything like it before...and they're hooked.

There's just one problem: The bartender asks if the show can go a half hour longer so he can sell another round of drinks. The troupe responds, "Geez, it takes us a week to dream up an outline for a show. How can we manage to churn out another 30 minutes?"
Then somebody in the group—I've never been able to find out precisely who—says, "Well, we've been improvising based on plot point suggestions tacked to a wall. Why don't we just improvise based on a suggestion taken from the audience?" So that's where the modern practice of launching improv from an audience suggestion comes from—the high artistic imperative of selling one more drink.
If you have any interest in the history of improv, or of comedy in general, Sweet's tales are fascinating—and not to be missed.
| | |
| --- | --- |
| Rating: *** | |
In this autobiographical show that's "90% all true," 100% delightful comedic actress Zahra Noorbakhsh relates how she managed to convince her American atheist boyfriend to move in with her—and then convince her Iranian Muslim parents that she shouldn't be tossed out of the family for doing so.
Noorbakhsh is a storyteller with all the necessary gifts. She's an exceptionally sharp observer with a keen eye for the right details, and a great ear and vocals for character voices. She's also a quick-witted comic with an instinctive feel for timing. And on top of all that, she has a compassionate understanding for the perspective of every single person covered in her one-woman show...which elevates her simple personal story to a universal tale about tolerance and bending the rules for love.
And if all that isn't reason enough to come experience the show, Noorbakhsh can guarantee that by the end of her performance you'll be converted into a Muslim.
Noorbakhsh has what it takes to be a star; and I expect her to become a lot more prominent as her confidence rises and she aims at increasingly bigger targets.
Meanwhile, come enjoy this intimate tale of finding sweet, messy ways to bridge massive cultural and religious differences.
11. The F*cking World According to Molly


Rating: ***
One of the highlights of FringeNYC 2008 was Allen Warnock and Andrea Alton teaming up to create hilarious characters in the very silly and fun show Carl & Shelly: Best Friends Forever.
This year Andrea is flying solo to portray Molly "Equality" Dykeman , "a security guard at PS 339 who is having her first poetry show."
The Village Voice's Michael Musto has proclaimed "She's a scream!" If you check out the photo (above), your first reaction may be to scream too. Molly's not for every taste.
That said, Andrea Alton is the real deal. She's spent years learning her craft as a razor-sharp New York sketch comic and stand-up, and as a superb comedic actress.
So if you have an open mind, and love comedy and/or gay parody, you'll probably grow to love her hilariously offensive lesbian character.
To get a feel for Molly, check out these video sneak peaks by clicking click here and here.
If you laugh, then come and enjoy razor-sharp Alton perform a character who, to my eye, has star potential.
Just be aware that if you're a woman sitting near the front, you'll probably be propositioned. (Repeatedly...)
| | |
| --- | --- |
| Rating: *** | |
Cow Play comes from one of my very favorite companies, Less Than Rent Theatre, which is spearheaded by three young creative geniuses: director Charlie Polinger, director-writer James Presson, and phenomenal actress-writer-producer Rachel Buethe (see the Rising Stars to Look For page).
Less Than Rent first caught NYC's attention with Richard 3, a highly energetic punk rock musical version of Shakespeare's Richard III from James Presson & Rachel Buethe that was a smash at FringeNYC 2010. To top that ambitious show was a substantial challenge; but Presson & Buethe—along with a small army of friends from Fordham University—proved themselves up to it this July with their emotionally super-charged Little Town Blues (for my review, please click here).
Meanwhile, Charlie Polinger has taken a different path, employing a cool and almost surgical directorial approach to plays by fellow Yale students. Polinger provides brilliant directorial flourishes that would make his staging of the phone book a stylish event. But while Presson/Buethe shows are full of heart, the Yale productions seem to come largely from the head. And for theatre, that's the wrong part of the anatomy to rely on.
Cow Play by Matthew George is a perfect example of both the negatives and positives of these Yale works. Ironically, the play itself is about the clash between head and heart. (Warning: This review contains spoilers. If you like to be surprised, don't read further until you see the show...)
The tale begins with three central characters: Jed, an austere young man of few words who's doggedly keeping the family farm going after the death of his father; Mark, his brother, who chooses to instead go off to a fancy college and study highly esoteric subjects (e.g., the importance of smell in the era of Charlemagne); and Julie, an aspiring actress passionately in love with the arts.
The first half hour is devoted to introducing this trio. In trying too hard to be clever, though, George has them do and say little of interest; and so the time is essentially wasted.
For example, Julie meets Mark; and even though Mark has little going for him, and we feel zero chemistry between them, the script has the two of them fall for each other. This relationship is the play at its worst, because up to this point there's no substantial difference between Mark and Julie—they're both people who live in their heads, disconnected from what's genuine. That makes them boring as individuals, and doubly dull as a couple.
The only memorable moments in this segment are of Julie auditioning for roles...because her enthusiastic acting of Shakespeare is delightfully atrocious. The latter is on purpose, by the way; Willa Fitzgerald, the actress who plays Julie, is terrifically talented (and at times even angelic, as indicated by the photo above).
Thankfully, Julie becomes so depressed at every NYC casting director having the good taste to reject her that she decides to flee the city and, at Mark's suggestion, spend some time at Jed's farm. And it's at this point—28 minutes in—that the play truly begins.
Will Turner as Jed and Willa Fitzgerald as Julie
Jed, and the cows he tends, are real. And Julie being confronted with them starts to make her real as well.
At the same time, Julie's rich knowledge and genuine love of the arts prove infectious, waking Jed up from his insularity and reminding him there's a limitless universe beyond the farm.
A scene that beautifully illustrates both of these journeys occurs after a cow Julie befriends, who she names Antigone, must be put down to avoid her disease spreading to the rest of the herd. It's a heartbreaking moment for Julie, who performed all her favorite books for Antigone. As she puts it to Jed, "But I read her the Western canon..."
Jed is used to death; it's part of the everyday routine of a farm. To make Julie feel better, though, Jed agrees to hold a funeral service. He also agrees to follow a script Julie's prepared for him:
Jed: We are here today to celebrate the life of Antigone Hamlet Loman.
Julie solemnly nods approval.
Jed: Julie would like to say that you were a great cow, and a dear friend. She will never be able to say "sorry" enough for shooting you. She hopes you understand why she helped you get to cow heaven. In honor of your life, Antigone—
Julie: Share a few words too, if you want.
Jed considers.
Jed: Thanks for letting me brush you.
Julie nods.
Jed: In honor of your life, Antigone, we are going to perform a brief scene from the great play of your namesake. Jed will be playing (awkwardly) Is—mee—nee, your sister. Julie will be playing you. We're arguing over who'll take the responsibility of the burial.
Jed/Ismene (flatly and amateurishly): Let me die with thee, and duly honor the dead.
Julie/Antigone (knowledgeably, but with an unfortunate tendency to overact): Share not thou my death, nor claim deeds to which thou hast not put thy hand. My death will suffice.
Ismene: And what life is dear to me, bereft of thee?
Antigone: Ask Creon; all thy care is for him.
Ismene: Why vex me thus, when it avails thee naught?
Antigone: If I mock, 'tis with pain that I mock thee.
Ismene: Ah, woe is me! And shall I have no share in thy fate?
Antigone: Thy choice was to live; mine, to die.
Julie bursts into sobs.
Jed: Um...
Awkward silence.
Jed: I'm very sorry for your loss.
That's great writing by Matthew George—the perfect blending of head & heart.
So is a correspondence that Julie, still in mourning, initiates with her deceased friend:
Dear Antigone,
I've decided to write you a letter.
I've tried talking to you in my sleep, but that feels awfully silly. So hopefully this won't be.
How's death? I hope it's going well.
I hope you enjoyed your funeral. Jed is a bad actor, but he tries.
Have you come across any plays you think I might like?
I'm doing well enough. I feel stronger.
And weaker.
I don't know.
I feel...awfully unstuck. Like I'm caught between the walls of two rooms. I can hear people talking in both, but I'm afraid to knock, because I don't know if I want to be found.
But I just wanted to let you know that I think about you a lot.
And I miss you.
I hope you get this letter. I'm going to bury it near your body so it'll disintegrate into your bones.
Keep me updated.
And I hope your milk is just as sweet in cow heaven.

Your friend,
Julie Morgan
When Julie receives a reply from Antigone—which logic dictates could have been written by no one but a changed Jed—this becomes a play to contend with.
There are other elements to the story. A sister of Jed's and Mark's who died in a farm accident, and who Julie occasionally morphs into, has us consider how new people we meet can step into the vacuum left by those we've lost. And a tapestry Mark studies has us think about the role time and patterns play in our lives.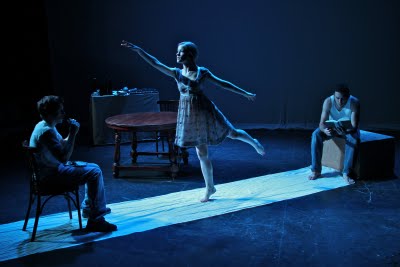 Julie becoming a memory of the accident that killed Mark's & Jed's sister
However, these aren't organic components of a well-orchestrated script. They're a mishmash of too many ideas from a young playwright who may not have yet learned the value of focusing on what's critical—which in this case is, pure and simple, the relationship between Julie and Jed.
Not only does the play not need the dead sister; it doesn't need Mark. This two-hour behemoth would work much better streamlined to 90 minutes or less with just Julie, Jed, and the cows.
In a review for The New York Times, Catherine Rampell wrote, "Somewhere within the rambling recesses of Cow Play there lurks a great drama. Thankfully Charlie Polinger, a wunderkind director, has gone spelunking into the depths of Matthew George's script to retrieve it...His staging is sharp and imaginative. The simple, silent farming tableaus are otherworldly. Mr. Polinger also takes some risks—with claymation and real-live dirt—that help draw out the work's surreal elements. In less capable hands, these choices could seem like gimmicks; here they help elevate a play that might have otherwise remained mere pastoral pastiche."
I agree that Polinger does dazzling work as a director. The play includes sharp timing of dialogue, haunting repetitive body movements, clever uses of sound—most notably variations on "moo"—that make even the dullest portions of the script seem better than they actually are.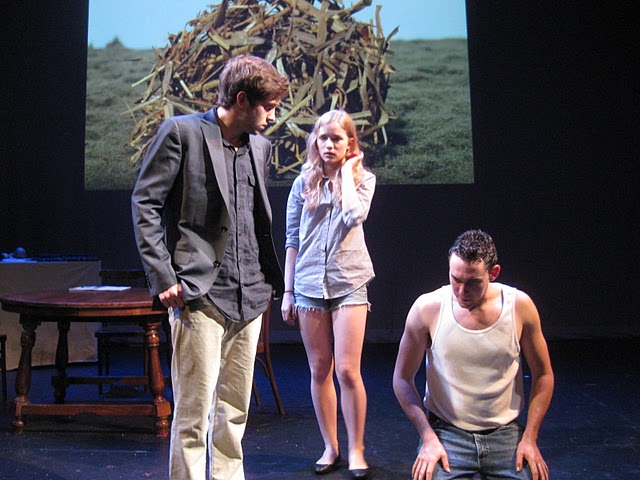 Among Polinger's stylish touches is a projection screen for images ranging from animated cows to letters from Antigone
But what Polinger apparently failed to do was simply turn to the playwright over the months they must have worked together and say, "This has the potential to be amazing, but right now it's too much of a mess. Pull out the bits that are there only for the sake of seeming clever. Rewrite it until it's coming from the heart all the way through."
Or if a director being that, um, direct is too uncomfortable to contemplate, he could've hired a dramaturgist to take on the role of "bad cop" on the production company's behalf. As someone who's worked with hundreds of talented writers, it's my experience that blunt honesty is the most effective strategy for ending up with great work.
As is, it saddened me to see Polinger use his magic to paper over flaws instead of actually addressing the problems. It was as if the House of Fabergé had said, "Yeah, these eggs are cracked, but we'll put jewels over them and no one will notice." It ultimately champions style over substance; and that's not the right path for a theatre company with the incredible potential of Less Than Rent to travel.
That noted, there's a marvelous core and shining moments in George's script; Polinger's dynamic direction really is engaging; and the performances of Willa Fitzgerald and Will Turner are thoughtful and touching. So its flaws notwithstanding, Cow Play is one of the most interesting dramas at this year's festival, and—if you're patient enough to pick wheat from chaff—worth catching.
I'll add that if you ever craft a stellar play, consider submitting it first to Less Than Rent. Regardless of whether it's handled by Presson & Buethe or by Polinger, you can expect directing, acting, and other production elements that are among the very best in New York indie theatre.
And if you're asked to rewrite to make your script even stronger, be grateful for it.
| | |
| --- | --- |
| Rating: *** | |
Australian Mark Storen and Norwegian Oda Aunan wage international warfare in this simple yet delightful cabaret comedy.
The duo play a husband & wife folk music act—and they actually perform a number of quirky and entertaining songs during the show, with him on guitar and her on kazoo. The delicious twist is that we see their marriage disintegrate in between the songs—and, more subtly, even during the songs.
This works so well primarily because of the charismatic and hilarious writer/performers. Aunan is a knockout with the facial expressions of a emotional five-year-old, making her simultaneously hot and adorable. And Storen has a stone face and stoic attitude that perfectly contrasts with his partner's histrionics. It's a spot-on combination for portraying the eternal tensions between men and women.
At the same time, the songs are deliberately not spot-on, instead just strongly hinting at the problems of the couples—and achieving an effect both more comedic and disturbing than spelling things out would have been. (In fact, the only notable flaw of the show is the ending, during which the battle becomes too literal.)
By the way, Storen and Aunan aren't a real-life couple. Storen is married, and his wife is a fellow performer; but her name is Renee Newman-Storen, and she's doing a one-woman show at the festival titled Virgie. Guessing to what extent Killing Nellie is based on anything from Storen's and/or Aunan's actual lives is one of the fun games you can play with a date after the show.
The terrific music, sexual combat, and continual laughs make this an all-round winner.
14. The Day the Sky Turned Black


Rating: ***
In this one-woman show, Australian Ali Kennedy-Scott plays five characters whose lives were turned upside down by the worst natural disaster in the history of her country—bushfires that struck on February 7th, 2009, a date that subsequently came to be known as "Black Saturday."
In case you're wondering just how serious bushfires can be, the unsettling answer is provided early in the production, recounted by a journalist:
We asked a friend who was a fireman to keep us posted. By the end of the evening he'd informed us that 13 people had died. We said, "13 people from bushfires?! That's huge! We better get down there." The next morning I went to the press conference where the Prime Minister was giving a statement, but Jason drove to where the fires had been. The police had blocked off most of the main roads, but he found his way there by accident taking the back roads.
As he got closer, he thought There's an awful lot of cars here for this early in the morning. When he drove up for a better look, he realized that the people in them weren't actually alive anymore.
There were kids looking out the windows, frozen. They weren't charred or anything. It's just that the air had gotten so hot it had literally burned the esophagus in their throats. So they just snapped, frozen.
There were dozens of them.
But no one yet knew how many people had died. The police hadn't sent anybody into the towns yet. They had no idea that all these towns had just been wiped out.
It was ultimately found that the fires had leveled over 2,000 homes, and took the lives of 173 people.
It was also found that the fires were set by pyromaniacs, inspired by the hottest day of that year. (Among the characters Kennedy-Scott plays is the mother of one of the arsonists.)
The show is based on actual interviews with the victims, and heroes, of the tragedy. While this probably resulted in limits to the drama, the upside is it provides a down-to-earth quality to the material that, coupled with Kennedy-Scott's respectful performances, makes the content feel authentic.
I never knew about Australia's Black Saturday before; but I'm now unlikely to ever forget it. And that's reason enough to recommend this show.
15. The Legend of Julie-Taymor or The Musical That Killed Everybody!


Rating: ***
The best thing about this production is its high concept. It's almost impossible to read the witty show title and not chuckle.
It took commendable chutzpah to do a musical about the most expensive musical in Broadway history—especially since the story was a moving target, with more news emerging and having to be incorporated as the script and songs were being developed.
And The Legend of Julie-Taymor is a pretty accurate description. The show covers the ins and outs of the troubled history of Spider-Man: Turn Off the Dark, largely based on a November 21, 2010 New York Magazine article by Jesse Green (to read the piece, please click here).
The music by veteran composer Dave Ogrin is solid, and the songs include several show-stoppers—most notably, "Tweet Tweet Tweet," about what audience members did during the first public performance of Taymor's show.
Seeing insider production details performed in song and dance is providing delight to theatre professionals and hardcore theatre fans—as well as cast and crew members who've actually worked on Turn Off the Dark.
That's the good news.
If the young writer of the book had been experienced enough to build on these elements and use the Julie Taymor saga as a launching point for something deeper, this show might've been a smash. But there isn't a whole lot more to it beyond covering the key points of Turn Off the Dark's production history.
In fact, one of the great ironies of the show is that it's continually making fun of Taymor being given extraordinary freedom with her creative choices and ever-ballooning budget because "she has a vision." But the lack of a strong and compelling vision of its own is the greatest weakness of this parody.
Further, the characters are uniformly cartoonish. For example, after the conclusion my companion remarked, "Gee, the Julie Taymor character was pretty one-note." I replied, "You're being generous. I'd say three-quarter note."
I don't blame lead Jennifer Barnhart, who has a rich history as a puppeteer/actress in Broadway's Avenue Q and for eight years on Sesame Street, but on a director who led her to turn a complex and fascinating human being into a woman who doesn't do much more than shout and spend investor money with abandon (her name in the show is—quite wittily—"Julie Paymore").
Several supporting actors fare better than Barnhart, including Kiley L. McDonald as the star of Paymore's musical; the highly likeable Shaun Rice in a variety of roles; and Christopher Davis Carlisle as the newspaper columnist who makes Paymore's life miserable.
The latter, presumably based on Michael Riedel of the New York Post, is named Lionel Weasel, and is supposed to be the villian of the story. But another major irony of this show is that we don't see him doing anything that's actually wrong; he's simply performing his job. In fact, if it wasn't for the reporting of folks such as "Weasel," The Legend of Julie-Taymor wouldn't exist in the first place.
There are a number of clever bits in the show—such as casting puppeteer Barnhart to play Taymor, who first made her reputation via the puppet-heavy Broadway hit The Lion King, and who's portrayed as a maniacal manipulator in this parody. If you're at all amused by the concept and curious about the execution, come see it.
But expect something along the lines of a high school prank, not emotional catharsis.
16. Theater of the Arcade: Five Classic Video Games Adapted for the Stage


Rating: ***
This show describes itself as follows: "An apelike brute holds a young woman captive and hurls obstacles at anyone who dares approach. Classic video game or modernist drama? What happens when arcade stories are given the high literary respect and dramaturgical rigor they deserve?"
The concept is one of the most clever and delightful of the festival. Each of the five tales operates on two levels: a take-off on a classic arcade game, and a parody of a classic playwright.
For example, the story represented by the photo above—which is the very best of the show—combines Donkey Kong with Tennessee Williams' A Streetcar Named Desire.
The opening segment is also hilarious, blending Frogger with Samuel Beckett.
All five tales are directed with exquisite care and wit by Gyda Arber. The cast is superb, and the smart use of props and costumes provides considerable pleasure—particularly in the segment based on Pac-Man (see the photo below).
Where this production falls short is the writing. The last three segments—which are more than half of the show—simply don't hold up as good stories. Each segment should be deep and layered enough to be compelling even for audience members who aren't familiar with the arcade games and playwrights being parodied. Instead, these tales do little more than plant numerous cute references for the enjoyment of those who'll recognize the insider jokes—and that's just not enough to create great theatre.
Theater of the Arcade is worth catching for its first two segments—which are among the finest of the festival—and for the pleasure of experiencing this hilarious idea played out. But I'd love to see stronger, deeper writing applied. The high concept and Arber's direction are sufficiently wonderful to support a commercial run, but only if the last three-fifths of the show are replaced with way better material.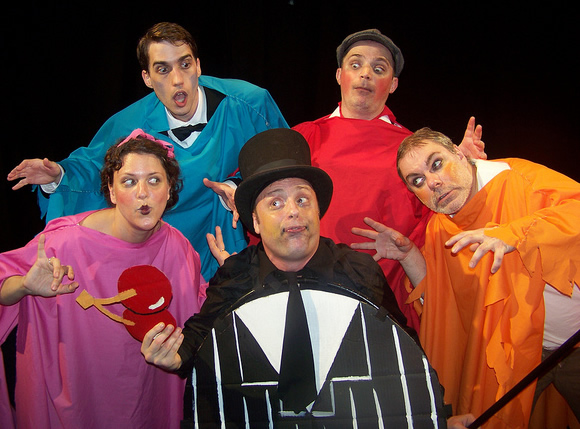 | | |
| --- | --- |
| Rating: *** | |
This is a stylish, witty play by Stan Werse that evokes memories of 1940s detective films such as Double Indemnity. It begins with a burly guy in a cheap suit delivering this monologue that sets the tone:
My name's McQue. I'm a detective.
Because I'm a big guy, people think I'm stupid. Or maybe it's because I don't usually say much. Either way, I don't really care.
But I want you to know, I went to college. Who'da thunk it, right? Yeah, on a football scholarship. Fractured my leg and lost the scholarship. That's the breaks. I went for two years but didn't have the money without the scholarship, so I quit.
I became a cop.
When I joined the force, I never told them about college. I figured they weren't looking to hire me for my bright ideas.
I was right. They weren't.
If you're a cop, you've got to back up your partner; but you don't have to like him. That's a good thing if your partner is Norbert Grimes. We worked together a bunch of years before it all happened.
This isn't about Norbert Grimes. Or me. It's about Clay Holden. I was there for most of it. I figured out the rest afterwards. They don't think I figured it out...but I did.
Anyways, I guess it's not important if I know or not. It's just the past.
And the past don't matter.
You might ask yourself, "What kind of world is it where the past doesn't matter?" And the answer is, an existential one, where people focus on living for the moment. In fact, we're taught to beware those who don't—such as McQue's boss Lieutenant Grimes, who commits the crime of continually telling stories about days gone by...and of never forgetting a mistake.
While patterned on black & white films, morality in this story is always a shade of gray, as epitomized by this exchange of views:
Man: I still know the difference between right and wrong.
Woman: If you do the right thing, and you get the wrong result, you didn't do the right thing.
Like the script, the direction by Marc Geller is smart and taut, supplying many delights. Pleasure also comes from the superb male actors: Michael McCoy as the frumpy child-like McQue, Andrew Dawson as the talkative father-figure-gone-wrong Grimes, and Darrell Glasgow as the young detective whose most important case is figuring out who he is. They are ably abetted by Ashley Rose Horton's costume designs, which are just right for the period and attitude.
For all its charms, there's room for improvement. For example, the characters are a bit too consistently cartoonish. The ending leaves at least one big question unaddressed (why doesn't the sap taking the fall spill the beans to the papers?). And more generally, while this production does justice to its genre, it seldom transcends it.
But these are quibbles. Noir is lots of fun, with just the right number of twists and turns to make you question your own moral code, and is recommended.
| | |
| --- | --- |
| Rating: *** | |
The pilot of a commercial airplane has to always be cool and in full control. As one of the two main characters of this drama explains in an imagined dialogue with his passengers:
I'd like you to contemplate some things. First of all, you've entrusted your lives to complete strangers—mainly myself, Captain David Ratigan, and my First Officer Kevin Black. Who the hell are we? You don't know. You've never even seen our faces before. I could jerk the yolk of this thing and we'd all die. And yet here he and I are, entrusted with the next few hours of your lives.
The play focuses on the contrast between the professionalism these guys must maintain when on the job and the terrible mess they've made of his personal lives. And the central question becomes whether these men can survive the gap between who they are in the clouds and how they behave in the dirt.
Playwright Ryan Campbell provides tough, cynical dialogue and imagery. And the principal actors—Matt MacNelly as Ratigan and Jared Houseman as Black—have a ball with the wordplay, delivering two of the most compelling performances of the festival.
The rest of the production is smart, too—ranging from sharp direction by Joshua Kahan Brody, to the eerie sounds and background music from sound designer David Corsello and composers Chris Snyder & Segnon Tiewul, to the flood of cloud-blue—or is it sea-blue?—strips of cloth on the ground from art coordinator Benin Ford.
There's room for improvement. For example, the play begins with a monologue from a third character who's both superfluous and boring, and should simply be cut. And we "get" what the playwright is doing early enough to allow the script to be trimmed from its current massive 2½ hours to a taut 90 minutes.
Even in its current form, though, this is a memorable, stylish drama that's worth catching.
| | |
| --- | --- |
| Rating: **½ | |
Carol Lempert is a superb talent. Her 2008 FringeNYC one-woman show That Dorothy Parker was one of my favorites from that year's festival.
Lempert takes a different path with this production. Instead of playing someone else, she tells a series of anecdotes about her own life. They revolve around her quest for a great role as an actress, and her quest for identity as a Jew—and how she found the two meshed when it came to Anne Frank.
For example, Lempert has this encounter in the Anne Frank house in Amsterdam:
A very large blonde woman in a Mickey Mouse t-shirt and her little girl of 10 wearing a Minnie Mouse t-shirt suddenly appear. "Excuse me," the woman says. "Are you Jewish?"
"Um...I'm sorry?" I say.
"Well, you look a lot like her," she says, gesturing to a picture of Anne Frank. She then turns to her daughter and repeats, "She looks a lot like her, doesn't she, honey pie?"
"You look a lot like her," she continues, returning her focus to me, "and I just thought you might be Jewish."
"Oh," I say. "Well yes, actually, I am."
"Oh, good," she replies, and smiles cheerily to her child. "Now you see there, honey pie? They didn't kill all of 'em!"
That's fine stuff. So is this story (possibly apocryphal) of a beautiful but terrible actress who convinces her wealthy boyfriend to fund a stage production of The Diary of Anne Frank with her in the lead:
They have three weeks of intensive rehearsals. Every day is increasingly frustrating for the director and the other performers. The actress can't remember the lines. Her delivery is amateurish. And the more she practices, the worse she gets.
Finally, opening night arrives. The curtain goes up...and she forgets her entire first speech.
Her performance goes downhill from there. By the end of the second act, the audience is fed up.
And then the Nazis barge in. "Where is she?!" they demand. "Where's is she!?! Where's Anne Frank!!!"
And a guy in the front row shouts, "She's in the attic!"
In other words, there are definite pleasures to be enjoyed in this show.
The main problem is most of the anecdotes aren't as interesting as the tales above. A lot of them almost come across as diary entries—i.e., important to Lempert, but not necessarily compelling to others.
Of course, someone else in the story is renowned for making her diary a great read. But trying to land a stage role, or seeking to understand a relative who's a Holocaust survivor, doesn't hold the same gravitas as what Anne Frank went through.
In addition, a problem I personally had was flat-out disagreeing with positions Lempert was championing. For example, she spends a substantial amount of time praising the Meyer Levin theatrical version of The Diary of Anne Frank, and subtly denigrating the version Anne's father Otto chose instead by Frances Goodrich and Albert Hackett (under the supervision of Lillian Hellman), which has fewer explicitly Jewish scenes. However, Lempert neglects to mention that the Goodrich/Hackett version won both the 1956 Tony Award for Best Play and 1956 Pulitzer Prize for Drama. And she seems to not appreciate how important it was to create a play that made the Anne Frank story accessible and universally heartrending for audience members around the globe. We take this girl's place in history for granted now; but it was the play, which was seen by millions, that cemented all that Anne Frank represents into the world's collective consciousness.
Along similar lines, Lempert periodically gripes that copyright laws prevent the Levin play from being performed—and, perhaps more to the point, prevent Lempert from portraying Anne Frank in her show. But copyright is the foundation upon which all creators depend to be both recognized and compensated for their work; and as someone who makes his living as a writer, I wasn't sympathetic to Lempert on this point either.
So this production is a mixed bag. I'm not steering you away from it; spending time with an actress as talented as Lempert is never a bad thing. But I found the material overall to be less substantive and gripping than hoped from a show with "Anne Frank" in the title.
| | |
| --- | --- |
| Rating: **½ | |
It's a scary challenge to be a first-time parent of any child. So imagine how much more frightening it would be if you knew that your family carried the gene for autism—because your whole life has been severely affected by your sister being autistic.
That's the meaty premise of this drama. The complex nuances required to do the subject justice aren't quite carried off by the young playwright; but it's a valiant effort.
The actors portraying the husband and wife do their best as well—though I'd argue they were miscast, as their lack of chemistry makes it hard to ever truly believe in them as a couple.
But you might consider catching this anyway, because the show rockets to life whenever the marvelous Brenna Palughi appears on stage (as in the scene above right, in which her character barely endures being hugged). A lessor actress could easily have fallen into the trap of playing the autistic sister as a cartoon; but Palughi is superb at making Sarah simultaneously smart and stunted, loveable and disturbing.
The organic quality of Palughi's performance was undoubtedly helped by the years she's spent as a top improvisor in the acclaimed Naked in a Fishbowl. This gals of this comedy troupe are FringeNYC veterans (for my 2007 review, please click here); and they'll be performing later in August at the Edinburgh Fringe Festival.
It's a special thrill to experience an expert comic delivering a razor-sharp dramatic performance. If you're open to the freshness of Palughi's acting—and to a play whose reach otherwise somewhat exceeds its grasp, but has its heart in the right place—you'll find some memorable moments here.
| | |
| --- | --- |
| Rating: **½ | |
When Will's childhood dog Bella dies, Will has to return to his family in New Jersey—which is planning services, including a viewing! Having established a life far apart from them, Will's highly annoyed to be back with his quirky mother and sister; and with his buddy from grade school, who hasn't evolved much since, and is employed as a pool boy.
That's a clear foundation for comedy. The key problem is that the family and friend are, relatively speaking, not all that odd, so Will's irritated reactions come off as overblown. Will learns to appreciate the positive aspects of these folks from his childhood...but it takes him a long hour and a half to do so. Most audience members are likely to get to the same place within the first five minutes—which doesn't make Will especially likeable.
What's primarily of interest in this sitcom-ish production are the actors. For example, while playwright Dennis Flanagan doesn't do a great job of writing Will as compelling, he ironically saves the show by doing a terrific job of playing the part of Will...because Flanagan as a performer is inherently very likeable. Also fine is Curran Connor as the dim-witted friend, who portrays his character as loyal and full of heart as the deceased dog without falling into the trap of being one-note.
That said, the most shining moments come from two actresses who appear only briefly.
The first is Megan Raye Manzi, who is smoking hot as Will's former girlfriend. I'm familiar with Manzi's work—see the Rising Stars to Look For page, or the photo above—and know her to be an extraordinarily smart, skilled, passionate actress. But even I was startled at what Manzi manages to do in this show. The moment she steps on stage, the jaws of male audience members are likely to drop while their pulse rates rise. Manzi is mesmerizing as a seductress who can't be refused, and her performance makes a powerful case for Manzi being hired by a much better production—or even more appropriately, a feature film—in the star role.
Also magical is Carrie Watt, who plays the deceased dog Bella. Watt is so bursting with energetic enthusiasm and love that her few appearances utterly transcend the play. Working mostly with facial expressions and body language, Watt crafts an unforgettable character greater than anything in the script.
If your main interest is attending a consistently entertaining comedy, this play isn't there yet. At minimum, it needs a major rewrite that makes Will's family and friends in New Jersey way more interesting and over-the-top, and packs a lot more substance into what's currently not much more than a one-joke story...for which we pretty much see the punchline from the get-go.
But if you want to enjoy two actresses who thoroughly merit stardom, come to savor the too-rare short scenes of Megan Raye Manzi and Carrie Watt. And if you're a casting director or producer, snap up these talents.
| | |
| --- | --- |
| Rating: **½ | |
When the superb Billy the Mime played FringeNYC in 2006, I wrote the following:
If you're typical, you cringe with disgust at the word mime.
That's largely due to a barrage of awful street performers who believed they were being creative by pretending to be trapped in boxes.
If you think about it, though, what mime does is boil a situation down to its essential elements, and then express those elements in a manner that's instantly and universally understood.
And that's really what art is all about.
That's also what Billy the Mime does, often brilliantly. His production consists of a dozen vignettes, each of which tells a story (ranging from small to epic) in mere minutes.
This troupe of young performers (many just recently graduated from Tufts University) adopts the same approach—hence the title of their company, Broken Box Mime.
In fact, one of the most charming scenes is the opening, in which the mimes perform natural activities with grace and clarity—and then a female member walks out clumsily pretending to be trapped in a box. A fellow gal mime quickly stops her—but by warmly hugging her. That embrace says, "Hey, that's not what we're about;" but it also conveys "We love and respect the traditions that led us here."
What I wish had been equally respected is the tradition of storytelling. Billy the Mime is not only a genius mime, but a brilliant comedic writer whose own show includes such mind-boggling vignettes as The Priest and the Alter Boy, Terry Schiavo—Adieu, and A Day Called 9/11. The scenes in this show aren't nearly as daring or compelling.
The troupe is focused on the feat of telling stories without words, and it does that pretty well. The next step is to dream up stories truly worth the effort.
That said, there's a genuine pleasure to having the visual portion of your brain stimulated by following events based solely on what you're seeing. Words do work, and extremely well; but it's nonetheless nice to leave them behind for 90 minutes and live in a world of movement.
| | |
| --- | --- |
| Rating: **½ | |
In this one-woman show by Yael Rasooly, a super-reliable executive assistant with no friends and effectively no life beyond meeting the demands of her inconsiderate boss has a nervous breakdown at her desk. Instead of getting a critical contract prepared and mailed out, she spends the night fantasizing about living various film scenes—enacted via paper cut-outs from black & white movie magazines she secretly keeps in her desk.
It's a charming idea, and artfully executed. Not only is Rasooly adept at making scenes come to life with bits of paper, she also creates numerous characters with her voice...and even sings.
My main gripe is that I wish more thought had been put into the overall story. While the individual bits are clever, the character doesn't change much following the breakdown that occurs early in the show; nor is it clear how she'll survive the consequences of her actions. The result is an ending that I didn't find emotionally satisfying.
If you're interested in seeing a skilled demonstration of paper art puppetry, though, this and Poe-Dunk are the shows to catch at the festival.
One of the most intriguing dramas of last year's FringeNYC was Prey, about a quirky crime boss who had his own special way of seeking justice. The first two-thirds of the play were thoroughly gripping and entertaining, and the performances were among the best of the festival. Unfortunately, playwright Scott Decker—who was also one of the actors—appeared to run of out ideas or focused attention at that point, because the story took a terribly disappointing turn that snatched defeat from the jaws of victory, turning what could've been a great crime drama into a mere missed opportunity.
Felony Friday is the sequel to last year's Prey. And it has the same strengths and weaknesses, only amplified.
The cast is superb. It includes John Amos, arguably the biggest star as this year's festival (TV credits include being a cast member of Good Times, the weatherman on The Mary Tyler Moore Show, a recurring character on Two and a Half Men, and an older Kunta Kinte on Roots; plus Amos has performed on Broadway, and in such feature films as Coming to America and Die Hard 2). It also includes Libby Winters, who acted in Broadway's American Idiot and the Las Vegas production of Mama Mia, and was a cast member on ABC's Champs.
And delivering performances at least as fine are Joe Wissler as the crime boss, Marc Sinoway as his gay cousin, and playwright Decker reprising his role from Prey.
The play starts out with a group of men behind bars. As we get to know them, we find each has a compelling personality and backstory—and they shoot dialogue back and forth like bullets.
After Act 1, though, the energy of the story quickly dissipates, as if the playwright used up all his good material in the first hour and has nowhere to go from there. Both the dialogue and plot grow increasingly dumb; and by the end of the 2 hours and 15 minutes, you're likely to feel not only disappointed but a bit furious at how much potential is wasted in this production.
Scott Decker's acting is consistently dynamic. But as a writer, he needs to become disciplined about creating a script that's equally great all the way through.
Meanwhile, I can't recommend that you see Felony Friday from beginning to end. But you might have a good time if you leave after Act 1 and then spend the next hour over dinner with a companion making up your own ending.
| | |
| --- | --- |
| Rating: ** | |
Frankly, FringeNYC's 15th Anniversary wouldn't be complete without a zombie musical.
I quite liked several of this show's catchy songs, including "Cathy" and "The Car Drives the Man." (You can listen to both, and more, by clicking here.)
I also enjoyed the singing of Alison Lea Bender (playing Cat, the bride) and Ryan Nearhoff (playing Cat's friend Neil, who's in love with her); and both the acting and singing of hot performer Sarah Aili (playing Cat's gal BFF).
Unfortunately, the book appears to have been treated like a clothesline on which to hang the songs. And that approach proves disastrous.
Just to give you a sense, here's what happens in the first 20 minutes: Neil goes off to Haiti for three months to help the locals. In return, Neil's inexplicably given powder to heal zombies, though he doesn't even believe in such things. During the three months, Neil continually writes to his friend Cat to profess his secret love for her (he's inexplicably never said it to her face); but when he returns, Cat has inexplicably never received any of the letters. Further, she's inexplicably decided to marry someone else named Keith—and Keith is inexplicably someone for whom Cat displays zero chemistry...for that matter, is too much of a jerk for anyone to fall for.
That night, just a week before the wedding, Keith goes to a bar to hit on women—but one of them inexplicably turns out to be a zombie! She bites him in the neck, spilling lots of blood...and turning him into a zombie. You'd think Neil would be happy that the path to Cat has been cleared for him; but instead of destroying Keith to ensure the safety of loved ones and everyone else, Neil tries to treat the zombie with the powder he was given...so Cat can have her "dream wedding"!
After that, the story proceeds from dumb to mind-numbingly stupid to "Oh my god, I want to rip zombie heads off"—including one of the most infuriatingly disappointing endings I've seen in a long time.
It's a shame, because there's a lot of good music, a fine band, and talented singers here.
But if you value intelligence, see something else.
| | |
| --- | --- |
| Rating: ** | |
I had such high hopes for Dystopia Gardens.
It's set in a future when things are awful, which is a great foundation for a funny play. And it's by comics who had a successful run with a shorter version of this very show at one of NYC's best comedy theatres, The PIT.
Indeed, the seeds for a solid production are evident. There are a number of characters and situations with potential.
But almost everything about the writing comes across as half-baked. For example, key bits of internal logic are flawed, which means the show fails to establish a solid reality for the world we're seeing. And there are no characters sufficiently developed for us to care about, which makes it almost impossible to emotionally invest in what's happening.
The writer/performers don't even bother to create a compelling storyline, instead settling for a series of barely related sketches.
The bottom line is that I never laughed during the hour and 15 minutes. A lot of the humor is based on silliness and shocks—e.g., sketches about sex, defecation, inane repetition. There's nothing inherently wrong with that approach, as long as it's accompanied by substance. But it felt as if the creators didn't have the attention spans to craft sketches going beyond obvious cheap laughs.
These sketch comics have genuine talent, though. If they develop the patience to dig deeper, and to learn how to continually improve from feedback, they'll have a future.
27. Em O'Loughlin Was a Big Fatty Boombah


Rating: **
Em O'Loughlin is a charming comic from Melbourne, Australia with a talent for character voices.
O'Loughlin also crafted the best one-sentence description of a production in the festival: "This is the show about how I made my arse look smaller simply by pulling my head out of it."
Specifically, it's about how O'Loughlin lost 187 pounds. That's an incredible life-altering experience, and could form the basis of an amazing autobiographical show filled with both laughs and drama.
In fact, FringeNYC was graced with just such a show last year: Scared Skinny by NYC-based Mary Dimino, who won the 2010 MAC Award for Outstanding Female Comedian. Here's an excerpt from Dimino's show about a turning point in her life:
Tears are streaming down my face. A car pulls up right next to me; I didn't even notice it. But then I hear two Italian guidos talking.

"Ay, she's crying! What do you think her problem is?"

"O-o-h, she's fat! That's what her fucking problem is!"

I'm trying not to react. But every cell in my being is tingling with shame. It's like I'm exposed; like they're reading my mind and there's nothing I can do about it.

"Imagine being that. O-o-h, she's one fat freakin' bitch!"

I didn't move a muscle.

And it was right there, between the stillness and the pain, that I had my epiphany: I am fat.

Yes, you're correct. I'm crying because I'm fat.

I may have felt that a million times. But have I ever really accepted it?

Putting myself in those guys' shoes, I finally got to see myself objectively. A newfound compassion, a complete understanding, for both them and me: I am fat. And I am so obviously fat, it's all people are going to see. How can I expect anyone to get past that?
In this scene, Dimino is employing comedy to reveal the deepest, most personal aspects of herself. It's raw, honest, and jaw-droppingly brave. And as a result of this approach—coupled with Dimino's immense skill—Scared Skinny was one of the biggest hits of last year's festival.
To my eye, Em O'Loughlin has what it takes to create a show of comparable worth. But what she's chosen to present instead in Big Fatty Boombah is a long collection of schtick. Here are some typical lines from the start of the show:
When someone told me, "Em, life should be fulfilling," I just heard the filling bit. Then there's the expression "The proof is in the pudding;" I think I might've eaten that as well.

From a friend of hers: "Oh my god, look at you! You've got more crack than Whitney Houston!"

It's so exciting to be in New York. You know how on New Years you all are in Times Square watching the ball drop? Back home it's just a group of people watching my boobs drop.

I was so fat I didn't find just lint in my belly button. I was digging around in there one day and pulled out a sock.
Okay, I actually like the sock line. But the show seldom gets much deeper than this.
There isn't even some great secret revealed in the end about how to lose weight. All O'Loughlin tells us is that she had gastric bypass surgery, with few details or insights added.
O'Loughlin's timing, character impersonations, and attentiveness to audience reactions demonstrate substantial comedic skills as a performer. If she opts to create material to match, she could become formidable.

Return to Hy on the Fringe Intro Page
Return to HyReviews.com Home Page
Please click a link below to jump directly to what you're after:
Introduction to FringeNYC 2011
Best Video Promos & Sneak Peeks
Shows That Sold Out Performances
Shows That Received Added Performances
Hy's Previous FringeNYC Coverage:
Other Notable Pages on This Site:
Best NYC Live Comedy (Updated Daily)
HyReviews.com Insider Freebies & Discounts
Hy's Other Sites:
When you need a winning book proposal, world-class editor, or bestselling ghostwriter: BookProposal.net
If you know anyone who might have a thyroid problem: The Complete Idiot's Guide to Thyroid Disease
For the best comedy shows tonight, and every night year-round: HyReviews.com and BestNewYorkComedy.com
Copyright © 2011 Hy Bender
Email: hy@hyreviews.com